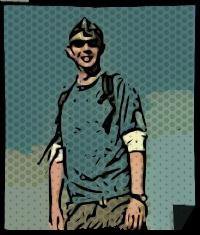 Hello, my name is Peter Lindsay, that much is certain. Well, mostly, it has been on occasion 林盛博 but that really only concerns the Chinese traffic police and, well, let's not get in to all of that just yet.
This is my personal website, my online home it has been through many variations and I'm sure this isn't the last. It is a vehicle, to help me connect to family and friends, for sure. It is also though a vehicle for learning, as creating and sharing is part of how I learn. It also, one has to hope, adds some net value to the universe. In passing, it hopefully documents my attempts to get as much experience out of my time here as possible. In fact, it's mostly about documenting my attempts to get as much out of my time here as possible.
But we're getting ahead of ourselves, I was born and raised in the North East of England living in both Northumberland and Newcastle upon Tyne. Newcastle, is a great place to be from, though I've yet to get back to the idea that it's a place I want to live again. It is home, and I can't think of a better place to call home.
Home, though for a long time was also a little city on the east coast of China called Hangzhou 杭州, that's a long story in itself and one that is at least partly documented in this blog. For now, let's just say that Hangzhou will always feel like home to some degree, thought the effect diminishes with time.
Home right now is Prague and one must relish the prospect of living in the very centre of one of Europe's historic capitals. Prague oozes culture of all kinds, past and present from every pore.
Update 2012-11-16: Home is now is Abu Dhabi more to come on this!
I've done a few things, professionally, including, paper boy, person who puts the paper's together as bizarrely the people who print them don't, usher, popcorn seller, ticket seller, person who goes up the ladder to clip the letters to the board outside the cinema, cleaner, waiter, stand-in dish washer, junior software developer, restaurant manager, IT support analyst, IT support manager, IT manager, head of IT, project manager, service manager, data analyst and process improvement manager. Some of those are more interesting than others and it's not always as obvious as you might think which ones.
I love running. Well, I think I love being outside, outside is best enjoyed by doing some activity there and running is my favourite such activity, but for simplicities sake, I love running. I'm also trying to learn Yoga and would love to live somewhere where doing it outside was regularly an option.
I'm recovering from the long held belief that there are people in the world who 'just aren't good at languages' and that I was one of them. I'm trying to keep my Mandarin Chinese alive (such as it is) and am learning to speak Slovak.
I'm at my happiest when I'm learning something for which I have a fairly immediate need or can foresee a need in the future but I'm getting better at studying to build a skills profile ahead of time.
I'm also doing other stuff, but that's enough for now.