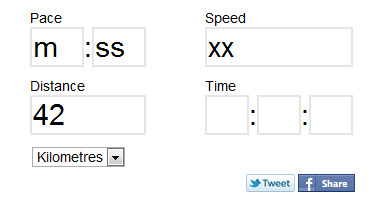 I'd like to introduce you to MyRunPace (myrunpace.com) a very simple web based application for runner's to calculate their pace. This is another project in the wild for me, which is very satisfying and also one that I really built for me.
I started building this because there were two things I couldn't find in all of the existing calculators that I'd used…
Simplicity: I only need a calculator to convert between Pace/Speed, Distance & Time, and nothing else,
Share: I want a way to share my calculations, including some kind of commentary with Twitter/Facebook, but not every time.
The other motivation, at the time that I started building it, was that I hadn't done anything in HTML/CSS for ages and wanted to 'reactivate' those skills.
The application does exactly what I wanted an application to do: you enter values in one or more of Pace, Speed, Distance, Time and the application will calculate all others possible. There are also buttons to share the calculation via Twitter of Facebook.
Wow, so that's my Boston Marathon qualifying target 4:30 per k to run 42k in 3:8:59
My favourite part though is that there is also Google Gadget for your iGoogle homepage.

Check the app out now at myrunpace.com – I'd love to hear what you think about the app.