I'd like to introduce you to MeCizinec, my Czech language learning blog that is going to keep me focused on learning Czech and hopefully help a few others towards this lofty goal. A project in the wild is always a satisfying thing. It's not finished per se, as it's an ongoing endeavor but it's nonetheless satisfying, I'm very please to be able to say it's been 'live' for 2 months now.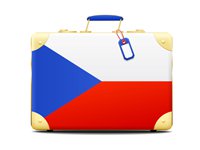 First and foremost MeCizinec is about me learning to speak Czech. The accountability, I have to get 2 posts out a week or someone will notice, is good motivator for me but also learning something well enough to try to explain it to others is a good way to make sure I'm really learning what I think I'm learning. I also very much like creating things, it's just fun.
It's more than that though. I have some ideas about how I think language learning should be different to the way it is 'normally' done. In short, I think you have to take responsibility for your language learning and for finding your own path to meet your own goals.
More specifically…
learning a language 'in country' or anywhere where you have good access to native speakers and native language resources ought to be different to the traditional school-room, / night-class approach,
being spoon-fed by a book or class alone will just take too long,
the right approach for you will be unique to you, to your life, what interests you and how you learn,
you have to go to class and learn the nuts and bolts, there is no question about that,
the goal in the first instance is always communication, not elegance or finesse,
the fastest way to learn is to get yourself as fast as possible into situations where you can interact with the language in a natural way hearing it / reading it / using it (and the traditional path doesn't always do this).
MeCizinec, then is just one component of my (still evolving) strategy of how I'm going to do this with Czech. The rough approach with MeCizinec then is as follows…
to first lay a foundation of enough grammar and enough of the language 'glue',
to then add the context specific vocabularly,
so I can read and converse in situations that are relevant to my life and interesting to me,
so I can learn more grammar,
so I can learn more words,
so end up at the point where I 'speak' Czech
For what it's worth, my own success criteria are…
for Czech to be my primary language at home
to read a daily newspaper in Czech
Check it out now at www.mecizinec.com http://mecizinec.posterous.com/